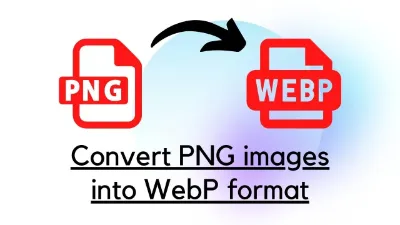 How to convert PNG image into WebP online for free
In this blog, we will teach you how to convert PNG images into WebP images easily. If you want to convert your PNG photos into WebP format, this blog is for you
---
In this blog, you will learn how you can convert any image format into WebP format. You may convert your PNG into WebP within seconds, but before that, I want to tell you the benefits of using WebP images on your website and whether it& apos;s better to use WebP format on websites other than PNG.
What is the WebP graphic format?
WebP is a powerful graphics format created by Google to improve the user experience when browsing the internet (mainly designed for use on websites). It dramatically compresses and shrinks image file sizes without compromising quality. According to Google research, the WebP picture format can minimize image file size by up to 35% while sustaining pixel-perfect quality.
When used on a website, it enhances the user experience by allowing for a faster web page load because of the reduced photo file size. The photos on this website are all in WebP format. As a result, this website loads faster and moves to the next page in seconds.
Benefits of Using WebP Image Format on a Website
The most obvious advantage of using WebP graphics on your website is their decreasing file size capability. It is far smaller than PNG, JPG, or any other format. Aside from that, converting an image from PNG to WebP has no effect on image quality and does not change the image in any way. It just shrinks the image size.
In other words, you can minimize the size of your image by up to 25% while increasing the website's performance by up to 50% to 80%. Isn't it a win-win situation?
Is WebP better than PNG or other formats?
It all depends. If you want to render a picture, such as a photograph taken with a GoPro or DSLR (high-quality images), and store it in your gallery, show it to your followers, and all that stuff, you can use PNG.
However, suppose you want to add pictures to your website, such as logos, banners, blog post images, stock photos, and so on. For such images, you must use the WebP format.
The file size is important for websites, and Google determined that the average WebP file size was far less than JPEG or PNG. Furthermore, WebP does not degrade image quality but makes your page load quicker, ultimately increasing the UX of your website.
How to convert images into WebP format?
It is no longer difficult to convert PNG pictures to WebP or any other format. You can even convert your images to WebP format in a matter of seconds. There are various online tools available to convert PNG to WebP or JPG to WebP that can be used directly from the browser and do not require any software installation.
Use the Free Cloud Tools image format changing tool to quickly change the format of your pictures. This online image format converter tool has a simple interface and powerful technology behind it. Simply drop your image, choose whether you want to convert PNG to WebP or another format, and then click the download button to get the new image.
This online image format converting tool provided by Free Cloud Tools is a free resource for everyone who works online.
---