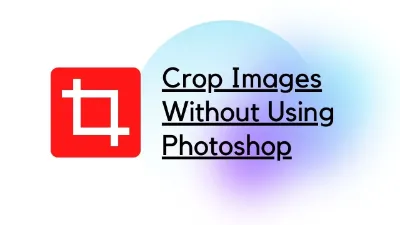 How to crop images online without photoshop for free
In this blog, we will teach you how to crop images without using photoshop. This is a free method that will help you to crop images
---
If you are a graphic designer or know how to use Photoshop, you can crop images without any headache. If you have a smartphone, you may quickly crop your pictures using photo editing software.
If you are unfamiliar with all of this and do not want to install additional software on your phone or do not know how to use Photoshop, you can still crop your photos pixel-perfectly. In this blog, we will show you how to crop photographs online without using Photoshop or any other software.
How to crop photos without Photoshop
This is the easiest method for cropping photographs on the internet. All you have to do is go to our image cropping tool online and input the image you want to crop.
After you select the image, you will see it being cropped on the canvas. After you've made your cropping selection, click the preview option to check your cropped image before downloading it.
The amazing part about this tool is that if you cropped your image incorrectly, you can preview it and re-adjust your selection. When you're finished, click the download button to begin downloading your image. That's all!
Isn't that easy and it will barely take a few seconds to crop multiple images. You can visit the image cropping tool online from here .
---